Foundation Supported by 90,000 Rotarians
The Yoneyama Scholarship program was inaugurated to commemorate Mr. Umekichi Yoneyama, a businessman who made a great contribution to establishing Japan's first Rotary club, the Rotary Club of Tokyo. Initiated by the club in 1952, the program was expanded to a joint undertaking by Rotary clubs all across Japan.
In 1967, the program became the Rotary Yoneyama Memorial Foundation, having received authorization from the Ministry of Education (now the Ministry of Education, Culture, Sports, Science and Technology).
The purpose of the Foundation is to grant scholarships to non-Japanese students who are pursuing academic studies and/or research in Japanese universities and other schools and who will go on to play active roles in their respective countries and international society.
Umekichi Yoneyama, A Man of Service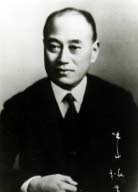 Umekichi Yoneyama (1868-1946), whom the Yoneyama Memorial Foundation commemorates, was brought up by his mother having lost his father early on. When 16, he left his home town of Nagaizumi-machi in Shizuoka Prefecture and went to Tokyo to study while working.
At 20, he traveled to the United States, where he studied for eight years at such institutions as Belmont Academy in California, Wesleyan University in Ohio, and Syracuse University in New York.
Wanting to be a writer, he studied under Kaishu Katsu upon his return to Japan. However, upon a suggestion from a friend, he joined Mitsui Bank and later became Managing Director. He went on to Mitsui Trust Co. Assuming the position as its President, he developed a new field of investment business. The company's mission was underscored by a principle of "societal contribution", thus laying the groundwork for today's concept a corporate philanthropy. Late in life, he became a director of Mitsui Hoh-onkai, where he worked to promote social welfare and medical advancement including research assistance for Hansen's disease, tuberculosis and cancer. In the field of education, together with his wife Haru, he used his family money to establish an elementary school.
Mr. Yoneyama's lifelong creed was "Whatever you want people to do to you, do so to them." A spirit of "caring about and helping others" was a guiding light his life. He didn't plead this principle though, choosing to practice it in a modest manner.
Foundation Established with Wishing for World Peace
In 1952, six years after Mr. Yoneyama passed away, amidst Japan's postwar reconstruction. A plan was initiated by the members of the Rotary Club of Tokyo to establish the "Yoneyama Fund." It was a fund-raising campaign to establish a scholarship program for foreign students. The campaign was launched with a wish to promote a worldwide perception of "Japan as a peace-loving nation."
Originating with the slogan "Let's contribute to the Fund by saving money for one pack of cigarettes per month," this program has to date granted scholarships to 19,197 students from 124 countries and regions (as of July 2016).